*Update*
MMI hosted a member-only conference call on November 28th to discuss the FIFO provision. Speakers included Craig Pfeiffer, President & CEO, MMI, Eddie Gershman, Managing Director, Deloitte Tax LLP, Harris Horowitz, Managing Director, BlackRock and Brian Langstraat, CEO, Parametric Portfolio Associates. 

On Monday, November 27, 2017, Craig Pfeiffer, President & CEO of MMI, sent a letter on behalf of the organization to the Republican members of the Senate encouraging them to remove the mandatory FIFO provision from the Tax Cuts and Jobs Act. MMI thanks Eaton Vance for their leadership on this issue as well as the other MMI members who provided their input. View the letter here.
 
Earlier on Tuesday, November 21, 2017, Mr. Pfeiffer sent the following letter to MMI members notifying them of the FIFO provision and asking them to share their points-of-view on the topic.
To MMI Members,
I am writing to call your attention to an important legislative development affecting our members and their investor-clients and to solicit the contact information of your firm's Government Affairs leader.
On Thursday, November 16th, the U.S. Senate Finance Committee passed The Tax Cuts and Jobs Act, including a provision that would generally require taxpayers selling, gifting or otherwise disposing of securities in which the taxpayer holds multiple positions to determine cost basis on a first-in, first-out basis, and effective for dispositions on or after January 1, 2018.
The current effort to change and reform our U.S. tax laws is moving very quickly and without a long and open debate. The above issue, amongst others, has meaningful ramifications and impacts to both our clients and to our members (asset managers, product distributors, broker/dealers, custodians, et al.).
Please see the attached Talking Points document prepared by Eaton Vance and shared with MMI for further distribution. We thank Eaton Vance for their continued leadership and contribution to the MMI community. Additionally, attached is a draft letter to legislators to be used by individuals to express a view.
I am asking any MMI-member firm with a similar document (approved for external use) or any open publication of a point-of-view on this topic to please send them to me, so that we can aggregate and redistribute across the MMI membership. MMI is committed to enabling and enhancing appropriate industry dialogue and helping members be educated on important and relevant topics.
So that we may update our member database and continue to collect insight, I also encourage you to submit contact information for your firm's Government Affairs professionals.
As always, thank you for your assistance and engagement with MMI!
Sincerely,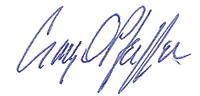 Craig D. Pfeiffer
President & CEO
Money Management Institute
Attachments
Craig Pfeiffer Letter to MMI Members (PDF) (pdf)
Mandatory FIFO Provision of Senate Finance Tax Bill (pdf)
Email Template (docx)
Letter Template (docx)